Who can use 123PayStubs?

Employers
123PayStubs is a great tool for employers who manage payroll on their own. Employers can easily create professional pay stubs, with the option to download them or email them directly to their employees, contractors, and gig workers.

Sole Proprietors
Sole proprietors can act as their own boss and pay themselves whenever they want. Though they may not need to withhold taxes, they still need paystubs to show proof of income. 123PayStubs allows you to generate professional paystubs instantly.
Generate A Paystub Online in 3 Simple Steps
with our Paystub Generator
1

Enter
Fill in the required company, employee, earnings, and pay schedule information.
2

Preview
Choose the template you prefer, preview paystub, and make corrections if required.
3

Download
Download and print paystub instantly or email it directly to your employee or contractor.
Step1

Enter
Fill in the required company, employee, earnings, and pay schedule information.
Step2

Preview
Choose the template you prefer, preview paystub, and make corrections if required.
Step3

Download
Download and print paystub instantly or email it directly to your employee or contractor.
Generate pay stubs with accurate tax calculations. It takes only a few minutes to create a paystubs.
Generating pay stubs online is as simple as 1-2-3.
Create a professional quality paystub in less than 2 minutes. Get started now with our Online Paystub Generator
and choose from a variety of paystub templates to fit your needs.
Get First Paystub For Free
Pay

$5.99

$3.99

from the second paystub!!
Why should you choose 123PayStubs
to generate pay stubs online?
Accurate Payroll Calculations that include
Federal and State income tax withholdings
FICA taxes such as social security and Medicare taxes
Year to Date (YTD) Calculations
Withholding calculations based on 2020 Form W-4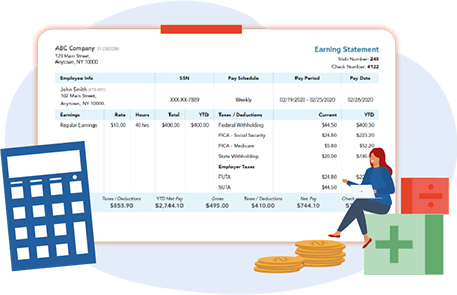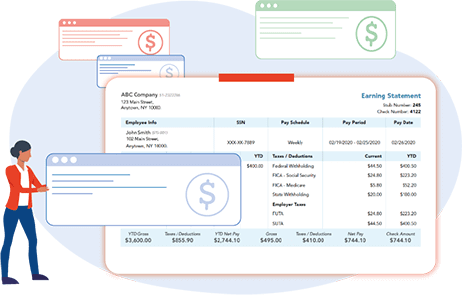 Customize paystubs to fit your needs
Choose from multiple paystub templates
Add your company logo with our paystub generator
Add last Year to Date (YTD) values to the paystub
Add any additional income or deductions
Preview Paystub and Make Corrections
Preview your pay stub prior to download and make unlimited corrections without any additional cost.
You can also preview and change the look of the paystub by choosing from the list of professional pay stub templates that we provide.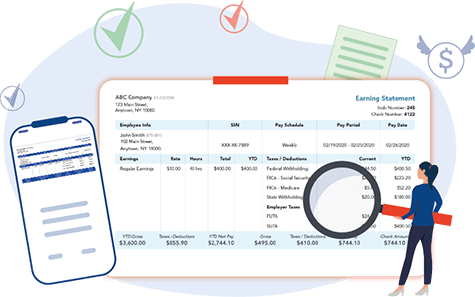 Generate pay stubs with accurate tax calculations. It takes only a few minutes to create a paystubs.
123PayStubs: It's more than a paystub generator!
Meet your payroll requirements
Generate paystubs accurately.
Know your tax liabilities.
Know what to do with your tax liabilities with the IRS and state agencies.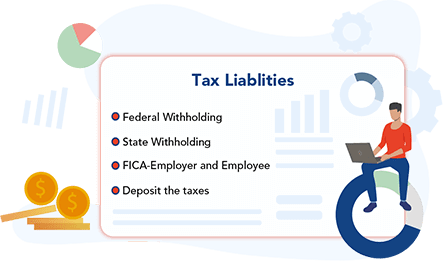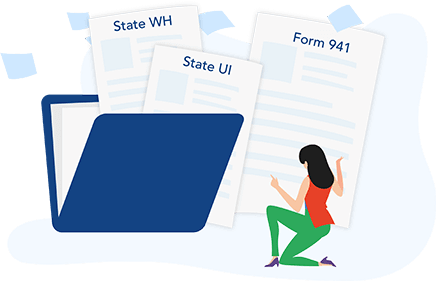 Meet your quarterly filing requirements
Generate and file IRS quarterly Federal Form 941.
File your State Quarterly Forms.
Pay your SUTA and FUTA taxes.
Meet your annual filing requirements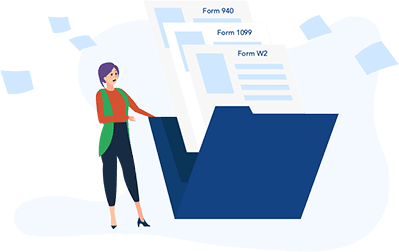 Generate pay stubs with accurate tax calculations. It takes only a few minutes to create a paystubs.
Handling Payroll Yourself?
You are at the right place!
123PayStubs is the perfect choice for those who handle and manage payroll on their own. Know your Federal and State withholding taxes, unemployment taxes, reimbursements and deductions made, and generate pay stubs for your employees, contractors, and gig workers with accurate calculations, including Year-to-Date (YTD) values. Get insights on what to do after each pay run, quarterly, and annual tax deposits and filings.
Generate Paystubs Using our Android or iOS or Galaxy store App
Generate paystubs instantly by using our paystub generator app. It's simple, easy and accurate.
User Reviews
Stubs are very professional and the Calculations are accurate
Jason Miller

Best price I've seen online. Will use frequently. love you guys!
Marsha Winston

Used 123PayStubs to generate pay stubs for my employees. Very easy to use and time-saving. I would gladly recommend you!
Mark Roberts

Awesome service. I was looking for the best paystub generator at a low price.This was so helpful. Thank you.
William Vincent

Great service at lowest price. Will use it again.
James Bradley

It was very simple and accurate. Got my stubs immediately.
Patricia Johnson

Love how easy it is. Would recommend this site to anyone in need of paystubs fast and accurate.
Vickie Cormier

Very easy to use. Quick and good price with several layouts.
W. Torres

Templates are great. Love how simple it is to work
Paul Ryder

Cost Effective and Easy to Use.
Taylor Hickerson

Frequently asked questions about our
Online Paystub Generator?
What Is A Pay Stub or Paycheck Stub?
A pay stub, also known as a paycheck stub, is a document that an employee receives along with their paycheck. It summarizes the employee's gross pay, net pay, taxes, and any relevant deductions.
Employers need pay stubs to have a clear understanding of their income, the tax amounts withheld, and as proof that they were paid correctly by their employer or payer.
Who Needs A Pay Stub?
Basically, anyone that is receiving a paycheck also needs a paystub. Pay stubs are needed to track income, file income taxes, and apply for loans. Employers, employees, and independent contractors all need easy access to this financial information.
Why are Pay stubs important?
Pay Stubs are important for several reasons:
Proof of Income: Pay Stubs are proof of your income, which can be important when applying for loans, credit cards, or a mortgage. Lenders and other financial institutions often require income proof to determine your creditworthiness.
Record Keeping: Pay stubs serve as a record of your earnings and deductions for each pay period. This can be helpful when you need to track your income for tax or budgeting purposes.
Employment Verification: Paycheck stubs also serve as proof of employment, which can be important when applying for a job, applying for government benefits, or verifying employment for immigration purposes.
What Information is Included on a Pay Stub?
The information included on the pay stub may vary based on the employee's tax liability and state/local requirements, however, the following information should be included:
General Information: The pay stubs include basic identification information of both employer and employee, such as the name, address, beginning and end date of the pay period. Some states also require the employee identification number.
Pay rates: Pay rates refer to the amount of money an employee is paid per hour, day, week, or month.
Gross Pay or Gross earnings: This is the total amount employees earned before any deductions or taxes were taken out.
Employee Taxes: This shows the amount of Federal, state, or local taxes withheld from the employee's paycheck.
Employee Contribution: These are taxes that fund Social Security and Medicare programs and are often referred to as FICA taxes.
Benefits Deduction: This will show any deductions for health insurance, retirement plans, or other benefits you may have signed up for through your employer.
Paid off Time: Shows the employee accrued hours of time off for sick leave, vacation, or any other personal reason.
Year To Date Earnings: This will show the total amount you've earned so far that year.
Net pay: This is the amount you actually received after deductions and taxes were taken out.
Understanding the Payroll Deductions on An Employee Pay Stub?
When you receive your paycheck stubs, you might notice several payroll deductions that have been taken out of your paycheck. These deductions can include taxes, benefits, and other withholdings that are required or authorized by law. Here are some common payroll deductions you might see on your paycheck stubs:
Federal Income Tax: This is a tax that is collected by the federal government on your earnings.
State Income Tax: This is a tax that is collected by your state on your earnings.
Social Security Tax: This tax is commonly referred to as FICA and is used to fund Social Security programs.
Medicare Tax: This tax is also part of FICA and is used to fund Medicare programs.
Health Insurance Premiums: If you have health insurance through your employer, you might see a deduction for your portion of the premium.
Retirement Plan Contributions: If you have a retirement plan through your employer, you might see a deduction for your contribution.
Wage Garnishments: If you owe money for things like child support, back taxes, or student loans, your wages might be garnished to pay off the debt.
If you need to create a pay stub for your employees or contractors, you can use our Check stub maker to do it quickly and easily. Our Check stub maker will handle all the calculations for you, such as taxes, deductions, and net pay. You just need to enter some basic information and choose a template. Then you can download, print, or email the pay stubs to your workers.
Are the taxes and YTD on my employee paystub accurate?
Yes. Our paystub generator automatically calculates the required taxes with the YTD values based on the current tax laws and the withholding information, you enter on your pay stubs.
How long will it take for my employees to receive their paystubs?
Your employees will receive an email of their paystubs as soon as you place the order. Make sure that you have entered their email address correctly. If your employees haven't received the paystub, please ask them to check their spam or promotion folder and ask them to add [email protected] to their contact list to receive their paystub directly to the inbox in future.
How can I make corrections on the paystub?
You can make unlimited corrections prior to completing your order. If you have completed your order, and then find an error on your paystub, please contact our support team for further assistance. They would help you to correct the mistakes on the completed order.
How can I make payment to complete my order?
Currently, 123PayStubs accepts payments through any debit or credit card. Just enter your card details to complete your order.
Will my information be safe?
Data security is the highest priority for 123PayStubs. So, we have encrypted our site and servers with a secure SSL to keep all the user information safe. So you can generate the pay stubs securely with our check stub maker.
Why is the contractor pay stub template different from the employee paystub?
One of the major reasons why the contractor pay stub looks different is because of the withholding taxes. Usually, the payments made to contractors are not subject to withholdings. Only wages that are paid to employees are subject to federal and state withholdings. Although, you can choose to withhold a certain amount from your contractor if they haven't provided you with the proper TIN information.
What is Year to Date (YTD), and why is it required in the paystub?
Year to Date (YTD) is important for both the employer and employee. Employers use the YTD to know the amount spent on the payroll. Whereas, employees use the YTD to determine their taxes to be reported on their individual income tax Return. 123PayStubs accurately calculates the year to date (YTD) for you and simplify the process for you.
Still have questions about our
online paystub generator?
Reach out our customer support team by chat or email for any questions that you may have regarding our paystub generator.
Get In Touch
123PayStubs
2685 Celanese Road, Suite 100,
Rock Hill, SC 29732.